You can convert your LinkedIn profile to a beautiful resume or CV using Resumonk in minutes. Just follow the simple steps listed below.
Once the conversion is complete, you can also select the best template/design for your resume, change its font & color and download it in PDF or DOCX format as a premium user.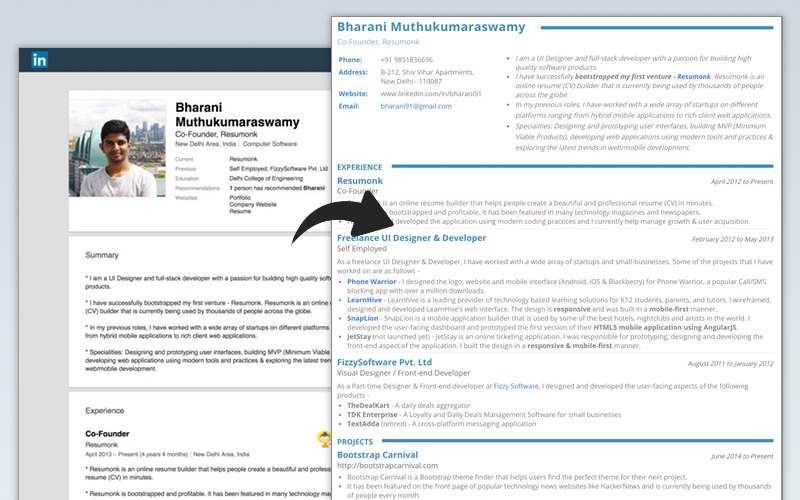 Step 2: Upload your saved LinkedIn zip file below
Important: Resumonk doesn't store this zip file on its servers.
Please note that this zip file also has information like your connections, contacts, messages and job applications. Our software reads only the profile information from this uploaded file. We are not a typical big software company that is out to sell or share your data with anyone. We value your privacy and really mean it.
If you are still concerned about uploading this data to our site, you can first remove the files other than the profile information from this zip, and then upload it.
Please click on the 'Browse Zip File' button to find the downloaded zip file on your computer and then click on the blue 'Upload & Convert LinkedIn Zip File' button.
Your profile would be imported in a few seconds and you will be shown Resumonk's 'Preview & Download' screen where you can change your resume's template, font, color and spacing.
You can make further changes in the text of the resume by clicking on the 'Edit Resume' tab. And you can download your resume in PDF or DOCX format by clicking on the 'Download' button.
Please note that the DOCX download and other premium features are available only to our paying customers. As a free user you will be able to download your resume only in the PDF format with our branding in its footer.
You can compare the benefits & features of our free and paid plans on the pricing page.