Resumonk makes it really easy to create a beautiful and professional resume. It provides a simple and intuitive resume editor and a collection of elegant resume designs & templates.
1. To create your first resume, click the "Create your resume" button on the home page. This is open a guest account for you. You can start working on your resume and if needed, you add a password to retrieve your resume later. Alternately, you can also signup for a free account.
Note that you can also signin securely using Facebook, Linkedin and Google+. We respect your privacy and we will NOT post anything to your social media accounts.
2. You'll be taken to the resume editor screen. Fill in your details or import from linkedin. Your changes would be saved automatically every 2 minutes.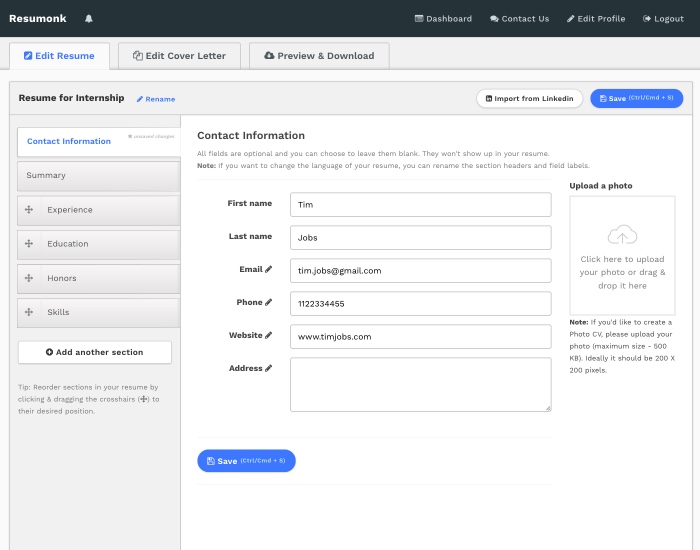 Once you are done writing, click the "Save and Continue" button at the bottom of the page. You'll be now taken to the next section. You can also add sections like "Publications", "Recommendations" etc. by clicking the "Add Section" button in the left sidebar.
3. Once you have completed adding your information, click the "Preview and Download" link at the top left corner. You will be taken the the Resume Preview screen where you can change your resume's template, PDF settings (colors, fonts, margins). When are satisfied with your design changes, click the "Save Design Settings". To download your resume in PDF & DOCX formats, click the "Dowload" button and choose the appropriate format from the download menu.