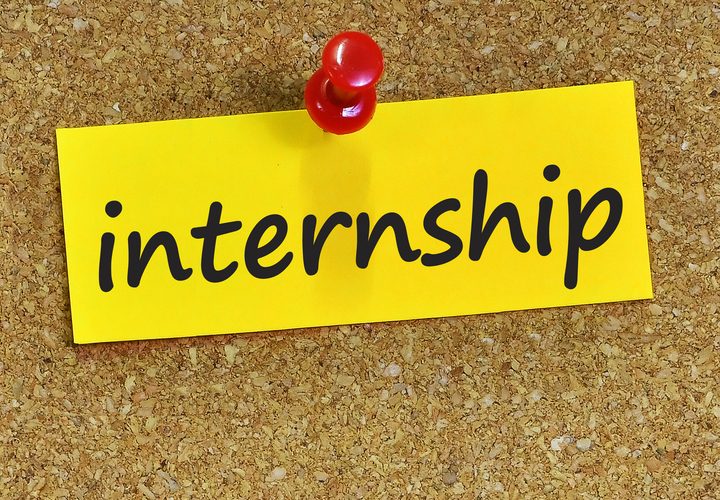 Well done! You've successfully scaled the heights of academia and are all set to embark on your professional journey. Yet, as a fresh graduate, you find the terrain quite challenging, with recruiters often dismissing freshers due to their lack of experience. 
However, the secret pathway to success lies in securing an internship, an excellent stepping-stone to a fulfilling career.
Getting your foot in the door for an internship can be as challenging as securing a full-time job. Internships can give you the hands-on experience and skills necessary to launch your career. But, you must present a stand-out resume to ensure that coveted position. 
This comprehensive guide outlines how to create an internship resume to help you shine in the competition.
Stay tuned; we've included a sample resume later in the post.
The basics of an internship resume
Recruiters typically give your resume a quick, 5 to 10-second glance before deciding to look more closely. During this short window, they're seeking good and bad stand-out qualities. This first impression can be crucial, setting the tone for how they perceive the rest of your information. 
At this juncture, the presentation of your resume is vital – it should be clean, well-organized, and easy to read, not cluttered with blocks of text. Aim to project a sense of professionalism and attention to detail through your resume. Here are some tips to help you build a clean and effective resume template:
The right layout matters
Choosing a good layout can help your resume stand out. Use our tips to make it easy for recruiters to spot your skills and qualifications.
Adhere to a one-page layout:

As a budding professional, it's best to keep your resume confined to one page. Recruiters who often have to review countless applications highly value brief yet comprehensive resumes.

Use section headers:

Section headers streamline your resume into easily readable sections. These enable recruiters to scan and understand your credentials swiftly.

Embrace white space:

Avoid squeezing too much information onto a page. A chaotic resume seems overwhelming to read. Ensure there are sufficient white spaces around the margins.

Pick a professional font:

Steer clear of 'funky' fonts to exhibit creativity. Instead, use a professional, easy-to-read font like Raleway, Roboto, Montserrat, and Latin.
Getting your resume format spot-on
When structuring your resume, consider these three widely-used formats:
Reverse chronological

— This format presents your most recent experiences at the beginning. It's an organized approach, but it may not be ideal for your first internship application as it stresses work history.

Functional (skills-based)

— This format best suits inexperienced applicants, as it leads with skills rather than job roles. Even though you should include any relevant experiences,

this format

is more lenient about gaps in your employment history.

Combination/Hybrid

— This format merges both chronological and functional approaches. Candidates with substantial work experience usually utilize it, which may not be ideal for beginners.
Though functional resumes may seem appropriate, the chronological format is most recognized by hiring managers.
Core elements of your internship resume
Once you've chosen your format and layout, you must consider what specifics you should incorporate into your resume.
Personal information and contact details
As an intern-to-be, it's crucial to ensure your contact information is complete and accurate for recruiters to reach out to you quickly. Keep the following points in mind:
Include your full name along with your city and state.

Verify your email address and contact number accuracy to avoid any communication mishaps.

Consider sharing your

LinkedIn profile

and any relevant portfolios or websites to showcase your skills and accomplishments.

Additionally, with Resumonk,

converting your LinkedIn profile into a professional-grade resume

is easy.

Exercise caution with your online presence, as inappropriate content could negatively affect your application.
Compose a stellar resume summary 
Your resume's summary statement is significant at the beginning of your career. It should quickly tell who you are and what you hope to achieve in your career. Follow the tips:
Keep it short, no more than three sentences.

Make it clear and specific to the internship you're applying for.

Use relevant keywords from the internship posting in your objective.

Emphasize your unique characteristics or people skills, even without extensive practical work experience.
Check out our blog for specific examples, 'How to Write a Powerful Resume Summary.
Highlight your educational credentials
As a fresher, the primary source of your potential value to a company is your educational background. However, more than simply having a degree and area of study is needed to set you apart from everyone else. If you want to leave a mark, here's what you need to do:
Specify your degree and major, along with the name of your college or university.

List the years of study, giving recruiters a clear timeline of your academic journey.

Mention any coursework that's relevant to the internship you're applying for.

If you have a good CGPA, don't hesitate to show it off.

Highlight any special skills you developed during your studies, especially those that show you can put theory into practice.
No experience? No problem! Read our guide "How to Write a Resume If You Have No Experience" for comprehensive insights.
Let your skills shine
Just because you lack professional experience doesn't mean you aren't fit for the job. Show your capabilities by creating a skill list that matches the internship you're applying for. Here's how:
List all your skills, categorizing them into hard (technical) and soft (interpersonal) skills.

To align your skills list to the job you're eyeing, weave in significant keywords picked directly from the job description.

Instead of using one-word descriptions, use short phrases that explain your skills better and show what you're truly capable of.
Give your resume the extra section boost
Incorporating additional sections to your resume can reflect your drive and set you apart from the competition. You might want to include the following:
Awards or accolades

from academic or extracurricular competitions.

Relevant

certifications

you've achieved.

Participation

in conferences, either as an attendee or speaker.

Volunteering experiences

that demonstrate your skills in action.

Language proficiency

, especially if the internship involves working with a multinational company. 

Hobbies or interests

that align with the internship's domain.
Top tips for a perfect internship resume
Building an effective internship resume goes beyond listing your qualifications; it's about communicating your potential with precision and professionalism. Here are some additional tips to optimize your application:
Steer clear of jargon
Though industry-specific terms can demonstrate knowledge, excessive use can make your resume difficult to understand. Balance professional language with simplicity for clarity and comprehension.
Use a professional email address
Your email address can leave a powerful impression. Ditch those quirky or informal addresses for a professional one, typically a combination of your first and last name.
Comprehensive proofreading
Mistakes in spelling, grammar, or punctuation can undermine your professionalism. Double-check and even triple-check your resume to ensure it's error-free. Consider using digital tools or asking someone else to proofread for a fresh perspective.
Make use of action verbs
Energize your resume by beginning each bullet point with a dynamic action verb. Words like "led," "managed," "created," or "optimized" can add impact to your responsibilities and achievements.
Stay genuine and honest
Embellishing your qualifications or experiences may seem tempting, but honesty is always the best policy. Recruiters appreciate transparency and integrity, and false information can lead to complications in the future.
Customize your resume
Remember, a one-size-fits-all approach doesn't work with resumes. Customize your resume for each application, ensuring it aligns with the specific role's requirements.
Keep it concise
While it's essential to include relevant information, lengthy resumes can be off-putting. Aim for one page, especially when starting your career, ensuring every word counts.
Adopt a readable format
Opt for a clean, well-organized layout that facilitates readability. Use bullet points, headings, and white space effectively, making sure your significant qualifications and achievements stand out.
Pair with a compelling cover letter
Complement your resume with a captivating cover letter highlighting your qualifications and potential contributions to the company. Access a range of cover letter templates and take your pick.
Explore our blog post, "How to Write a Cover Letter," for more valuable tips.
An example of an intern's resume
Here is an example of an intern's resume created using Resumonk's Charisma template: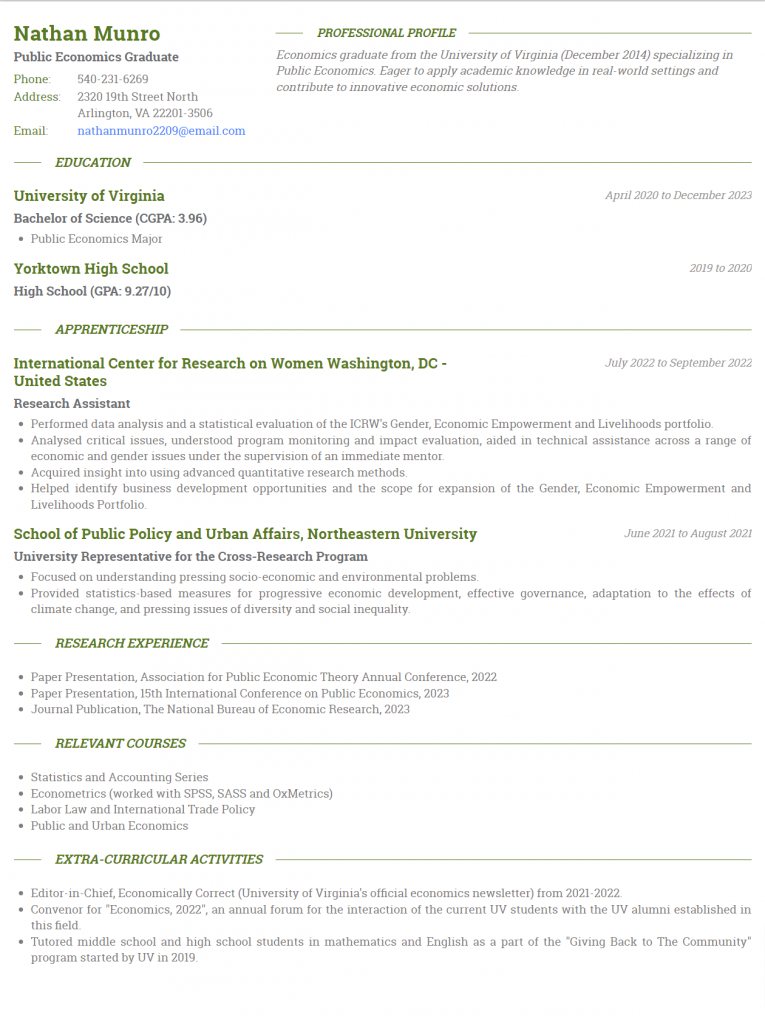 Here is the text version of the above intern's resume example:
————————————-
Nathan Munro
Public Economics Graduate
Phone: 540-231-6269
Address: 2320 19th Street North
Arlington, VA 22201-3506
Email: [email protected]
PROFESSIONAL PROFILE
Economics graduate from the University of Virginia (December 2014) specializing in Public Economics. Eager to apply academic knowledge in real-world settings and contribute to innovative economic solutions.
EDUCATION
University of Virginia
Bachelor of Science (CGPA: 3.96)
April 2020 to December 2023
Public Economics Major
Yorktown High School
High School (GPA: 9.27/10)
2019 to 2020
APPRENTICESHIP
International Center for Research on Women Washington, DC – United States
Research Assistant
July 2022 to September 2022
Performed data analysis and a statistical evaluation of the ICRW's Gender, Economic Empowerment, and Livelihoods portfolio.

Analyzed critical issues, understood program monitoring and impact evaluation, and aided in technical assistance across a range of economic and gender issues under the supervision of an immediate mentor.

Acquired insight into using advanced quantitative research methods.

Helped identify business development opportunities and the scope for expansion of the Gender, Economic Empowerment, and Livelihoods Portfolio.
School of Public Policy and Urban Affairs, Northeastern University
University Representative for the Cross-Research Program
June 2021 to August 2021
Focused on understanding pressing socio-economic and environmental problems.

Provided statistics-based measures for progressive economic development, effective governance, adaptation to the effects of climate change, and pressing issues of diversity and social inequality. 
RESEARCH EXPERIENCE
Paper Presentation, Association for Public Economic Theory Annual Conference, 2022

Paper Presentation, 15th International Conference on Public Economics, 2023

Journal Publication, The National Bureau of Economic Research, 2023
RELEVANT COURSES
Statistics and Accounting Series

Econometrics (worked with SPSS, SASS, and OxMetrics)

Labor Law and International Trade Policy

Public and Urban Economics
EXTRA-CURRICULAR ACTIVITIES
Editor-in-Chief, Economically Correct (University of Virginia's official economics newsletter) from 2021-2022.

Convenor for "Economics, 2022", an annual forum for the interaction of the current UV students with the UV alumni established in this field.

Tutored middle school and high school students in mathematics and English as a part of the "Giving Back to The Community" program started by UV in 2019.
————————————
Get started on your intern resume with Resumonk
Are you eager to craft your first-ever intern resume? Your search ends with Resumonk. Our user-friendly platform streamlines the process of building a stand-out professional resume, offering an array of resume templates to jumpstart your career. 
p.s.- Learn more about our premium plans and the free resume builder.