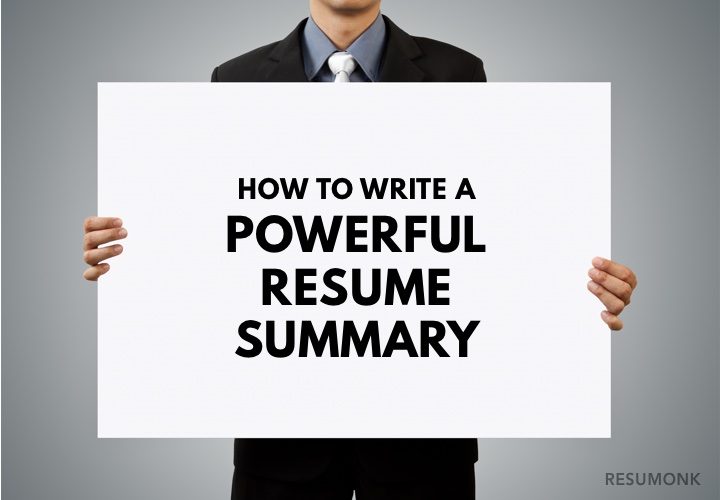 If there is one section in your resume that has the maximum impact on your chances of landing your dream job, it is this one – Resume Summary.
Whether you are a recent college graduate or have spent years in the workforce, it is always hard to summarize yourself and your work experience in a few lines.
Consider the resume summary as your elevator pitch. These few lines would either convince the hiring manager to look through your resume in detail, or just move on to the other one.
Do not write a vague objective statement like "To obtain a position enabling me to utilize my strong communication and leadership skills that offers growth and advancement opportunities".
You need to hone in on the most vital information in your resume to outline why you're the best candidate for the job and what you bring to the table for the employer.
Take a look at these following examples that would help you write a powerful resume summary, and get your resume past the screening stage.
1. Use the Job Description to Craft Your Resume Summary
Use the keywords of the job description to shape your experience in the summary with strong and specific word choices.
Look for yourself in the job description, and match those skills to your concrete professional strengths and experiences.
If you meet the criteria for number of years of work experience mentioned in the job description, you should add that information in the summary. It makes the resume easy to screen for the hiring manager and they can focus more on your other relevant skills & experience.
e.g. If a job description says they are looking for an IT project manager with over 10 years of experience to work with distributed teams on big ticket projects, you can show that you meet all these requirements in your summary:
IT Project Manager with 12 years of experience. Demonstrated excellence in delivering multiple large scale global projects ($1.5MM – $3.0MM) on time and within sanctioned budgets. Projects include large IT infrastructure implementations, multiple site migrations, application upgrades and security system implementations.
2. Keep It Concise and Clear
Try to keep your resume summary concise and clear, ideally not using more than three sentences. That's the goal to aim for in length, since hiring managers are only going to spend seconds scanning each resume.
Look at these examples of resume summaries that are concise but still highlight the skills & experience of the candidates well:
Five years of experience in hospitality and corporate reception, utilizing polished front desk skills and top-notch customer support to provide exceptional customer care and administrative services.

Professional CPA with over six years of experience managing accounts following accounting best practices to ensure healthy financial performance of the firm.

Passionate early childhood educator with a strong background in cultivating young children's learning through emergent curriculum. Highly skilled in fostering the development of the child, and forming meaningful relationships with children & families.
3. Highlight Three Things That Define Your Professional Self
What are your top three skills? e.g. Do you possess an ability to manage complicated projects? Have you exceeded sales goals? Do you have excellent organization skills? 
What successes have you seen due to them? Make a list of these, and interweave them with the major skill requirements the employer is looking to fill.
Research the vital skills of your target industry and think from the hiring manager's perspective.
Here is a good example of a resume summary for a sales manager:
Target-driven sales professional with a proven track record of growing revenue & profit. Over 10 years of progressive experience in direct sales, channel sales and business development in the highly competitive segments of the consumer electronics industry.
It highlights the skills and the domain experience at the same time.
4. Don't Let "Entry Level" Make You Feel Inexperienced
Just because you're a new graduate doesn't mean you don't have experience.
Traits and skills that you've developed are likely transferable to the jobs you're applying to at the start of your career, and the same goes for those who are changing careers. 
New graduate with a BA in business management. Internship experience with architectural firm in project management. Noted for skills in meeting deadlines, time management, accurate research and effective problem-solving.
5. Showcase Your Personality, When Relevant
Check this excellent summary written by a registered nurse that showcases personality traits relevant to the job:
Compassionate, reliable, certified nursing assistant with 7 years of experience in caring for disabled, elderly and memory impaired individuals. Excellent client care with great interpersonal communication skills. Flexible work hours, available on weekends and holidays as well.
On similar lines, check out this example of resume summary for a paralegal.
Paralegal with over four years of experience in legal firms working with attorneys and clients on sensitive cases regarding disability, foreclosure, family and juvenile and civil rights. Sociable and empathetic with a focus on the bigger picture, highly efficient with client and professional relationship building and communication. Experience working with multiple attorneys and their clients, with bilingual proficiency in Spanish.
The position of paralegal is very client-facing, and this applicant does a great job of balancing both professional and personal sides to the summary's advantage.
6. Employ Strategic Keywords to Make a Resume Scannable
Detail-oriented CAD technician, BTEC-qualified certification and recognized skills in engineering drawing in 2D and 3D, developing designs collaboratively on teams and as a freelancer for a diverse range of clients for the last 15 years.
As this summary shows you, there's no need to spell out special software or program names, if they're standard in your industry and well known by certain acronyms. For example, use CAD in place of computer-assisted design. Don't stuff your resume summary with these, but use them as appropriate, because it does two things:
Shows you know your industry-specific stuff

Makes it scannable for hiring managers
Similarly, this also works well for choosing "15 years of experience" over "fifteen years of experience." The variation of sentence structure and word choices helps place the focus on important elements of your resume summary. This makes it easier for the hiring manager to skim down to those critical details in your resume.
Here is another good example where the relevant keywords have been added by the applicant in the summary:
Senior Software Engineer with 6+ years of experience in creating scalable web applications using Java. Proficient with Hadoop & Python. Algorithms & Machine Learning Enthusiast.
A powerful resume summary comes with patience and a hawk eye. Look over your resume with the gaze of a hiring manager who's had three cups of coffee and seen a hundred resumes in one day. What stands out to you?
Does it address the company's needs, and showcases the experience and strengths you bring to the table? Great! Your resume summary has just landed you in the interview pile.
p.s. Resumonk helps you create a beautiful résumé & cover letter in minutes. Stand out from the crowd and multiply your chances of landing your dream job. Also, check out these best remote jobs curated from across the web by us.
This post was written in collaboration with Sarah Landrum, Founder of Punched Clocks.