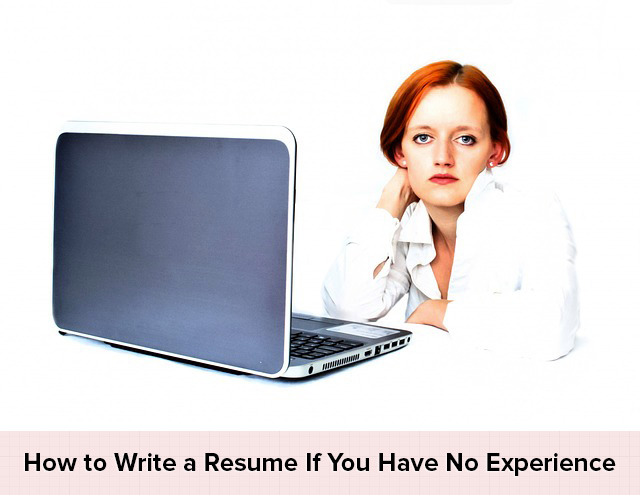 As a fresher, stepping into the job market can evoke excitement and nervousness. Without prior work experience, crafting a compelling resume that catches the attention of potential employers is an uphill battle. 
But fear not! This step-by-step guide will lead you through creating an impressive resume showcasing your skills, strengths, and potential. 
Whether you're a recent graduate or someone transitioning to a new career, this article aims to help you quickly navigate the resume writing process.
A sample resume awaits you at the guide's conclusion.
Choose the right format
When it comes to resume formats, simplicity is the key. The reverse-chronological format works best, starting with your most recent education and moving backward, allowing employers to quickly grasp your qualifications and academic progression.
Resume length and formatting
For a fresher resume:
A one-page resume is usually sufficient. 

Maintain a clean and simple font style like Raleway, Roboto, Montserrat, or Latin, using 10-12 points font size.

Use bullet points to present information in a scannable format.

Avoid using decorative fonts or excessive formatting.
Explore our article for more valuable and effective resume-writing tips.
Structure of the resume
A well-structured resume is essential for readability and clarity. Divide your resume into the following sections:
Header
Make a memorable first impression with your resume header, which is the first thing potential employers will see. Ensure it includes the following essential information:
Professional name:

Use your full name in a clear and legible font. Avoid using nicknames or abbreviations to maintain a professional tone.

Contact information:

Provide updated and accurate contact details, including your phone number and email address.

LinkedIn profile link: Include the link to your professional LinkedIn profile to add credibility and enable recruiters to learn more about your skills and accomplishments. Resumonk allows you to convert your Linkedin profile to a resume page easily.
Example:
[Your Full Name]
Contact information:
Phone: [Your Phone Number]

Email: [Your Email Address]

LinkedIn: [LinkedIn Profile URL]
Objective or summary
As a fresher, begin with a concise, objective statement or resume summary. Showcase your career goals and critical skills relevant to the job you're seeking.
Example:
Objective: 
Marketing graduate seeking an entry-level position in digital marketing. Skilled in social media marketing and data analytics, aiming to drive brand awareness for an innovative company.
Summary: 
Detail-oriented accounting graduate with a strong passion for financial analysis. Proficient in financial modeling, data analysis, and accounting software. I seek a junior financial analyst role in a growth-oriented organization to contribute analytical skills and accuracy.
Tap into the power of education
As a fresher, your educational background is crucial to your resume. List your academic qualifications in reverse-chronological order. Include the following:
Name of the institution

Degree obtained

The year of graduation
With no work experience, highlighting your education is an excellent way to showcase your strengths, interests, and background. Consider including the following items:
Relevant coursework:

Include courses that exemplify skills pertinent to the job you're pursuing. Highlight skills valued in your desired field, whether technical subjects like economics, maths, or computer science or communication-focused courses like English or writing.

GPA and Honors:

Flaunt your impressive GPA of 3.5 and above and any academic honors you've received to proudly showcase your dedication and academic aptitude.

Certifications and online courses: Include any certifications and online courses you've completed outside of school or any professional credentials in the education section of your resume.
Include relevant non-work experiences
Although you may not have formal work experience, your resume can still showcase your professionalism, interests, and character through other experiences:
Volunteer experience:

Include any relevant volunteer work to showcase your practical hands-on experience, highlighting your community involvement, teamwork, and dedication.

Part-time jobs:

Don't hesitate to include any part-time jobs, such as tutoring, babysitting, or helping at your parents' small business while in school. These experiences demonstrate your employability and customer service skills.

Extracurricular activities: Being part of sports teams, cultural clubs, social media teams, or student councils demonstrates your willingness to explore interests, develop new skills, and work collaboratively. Remember to mention any leadership roles you held in these activities.
Relevant projects: Include any class projects completed with brief descriptions if they relate to the job you're applying for. f you have multiple projects, consider creating a separate section for them.
Stand out with your skills
Even with no formal work experience, you possess valuable skills for the field. Review several job descriptions of roles you're interested in to identify common hard skills (technical abilities) and soft skills. Adapt your skills to match the job requirements. 
Example:
Hard skills: 
Technical knowledge

Programming languages

Financial Accounting

Microsoft Office

Digital Marketing

Research and Data Analysis
Soft skills:
Teamwork

Communication (oral and written) 

Public speaking

Creativity

Interpersonal skills

Multitasking

Time Management
Extra sections to elevate your no-experience resume
An advantage of a resume without experience is the extra space it provides. Capitalize on this opportunity to showcase your unique qualities through additional sections. Consider incorporating the following ideas:
Hobbies and interests:

Personalize your resume with relevant passions, e.g., digital marketing for a marketing role or illustration for graphic design. This section reflects your personality and industry alignment.

Languages:

Impress employers with your language skills! Fluency in a second or third language opens up valuable international opportunities. Be honest about your proficiency level and include only the languages you understand and can confidently use.

Awards & certifications: If you've earned any recognition, like an award-winning essay or an online course certificate, include them in a separate section. These achievements demonstrate your success and make your fresher resume stand out.
Optimize with a template
Simplify the process of creating your resume layout by utilizing Resumonk's beautiful templates. With a few clicks, customize any template to suit your preferences and requirements in just minutes.
ATS optimization
Many companies commonly use Applicant Tracking Systems (ATS) to screen resumes. Increase your resume's chances of getting noticed by Applicant Tracking Systems (ATS) by using job-specific keywords, avoiding tables or images, and saving your resume in a universally compatible PDF format. 
Additional tips 
Crafting an impressive internship resume involves more than just listing qualifications; it's about effectively communicating your potential with professionalism. Follow these tips to enhance your application:
Avoid jargon:

Use clear and straightforward language for easy understanding.

Professional email:

Opt for a professional email address, ideally combining your first and last name.

Proofread, and then proofread some more:

Thoroughly check for spelling, grammar, and punctuation errors.

Action verbs: Begin bullet points with dynamic action verbs like "led" or "created" to add impact.
Stay honest:

Be genuine and truthful about your qualifications and experiences.

Customize each application:

Tailor your resume for each internship opportunity to match specific requirements.

Keep it concise:

Aim for a one-page resume, focusing on relevant information.

Readable format:

Choose a clean, organized layout with bullet points and headings.

Cover letter:

Complement your resume with an

engaging cover letter

that showcases your qualifications and potential contributions to the company. Take your pick from our collection of

cover letter templates.
Visit Resumonk to create an impressive resume and cover letter in minutes to boost your chances of landing your dream job. Check out our wallet-friendly premium plans and make the most of our free resume builder.
Check out this no-work-experience resume example made using the Concise template of Resumonk to spark ideas for crafting your own.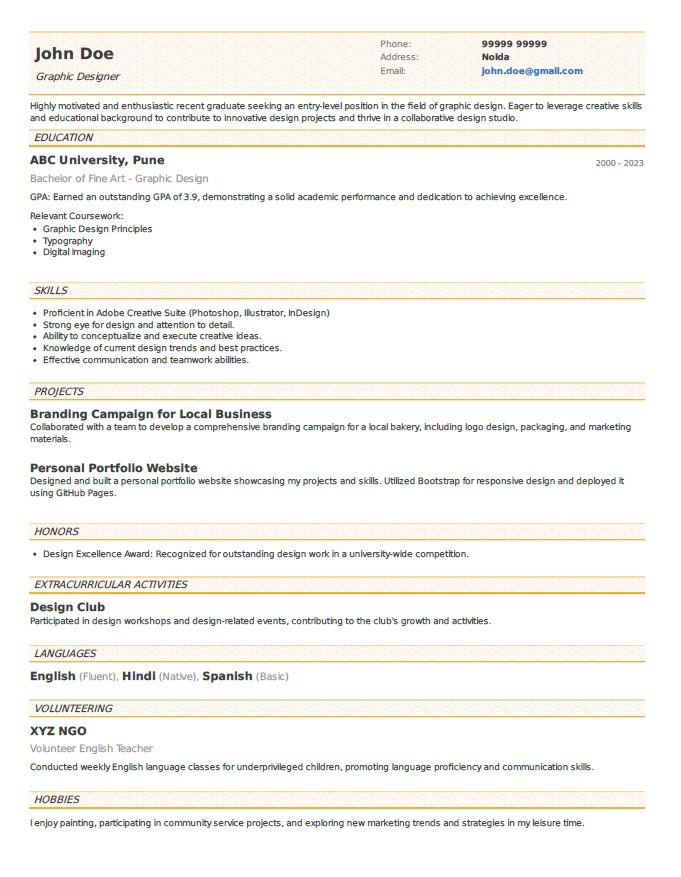 Here is the text version of the above skills-based resume example:
---
John Doe
Graphic Designer
Highly motivated and enthusiastic recent graduate seeking an entry-level position in the field of graphic design. Eager to leverage creative skills and educational background to contribute to innovative design projects and thrive in a collaborative design studio.
EDUCATION
ABC University, Pune
Bachelor of Fine Art – Graphic Design
GPA: Earned an outstanding GPA of 3.9, demonstrating a solid academic performance and dedication to achieving excellence.
Relevant Coursework:
Graphic Design Principles
Typography
Digital Imaging
SKILLS
Proficient in Adobe Creative Suite (Photoshop, Illustrator, InDesign)
Strong eye for design and attention to detail.
Ability to conceptualize and execute creative ideas.
Knowledge of current design trends and best practices.
Effective communication and teamwork abilities.
PROJECTS
Branding Campaign for Local Business
Collaborated with a team to develop a comprehensive branding campaign for a local bakery, including logo design, packaging, and marketing materials.
Personal Portfolio Website
Designed and built a personal portfolio website showcasing my projects and skills. Utilized Bootstrap for responsive design and deployed it using GitHub Pages.
HONORS
Design Excellence Award: Recognized for outstanding design work in a university-wide competition.
EXTRACURRICULAR ACTIVITIES
Participated in design workshops and design-related events, contributing to the club's growth and activities.
LANGUAGES
English (

Fluent)

Hindi (Native)
Spanish 

(Basic)
VOLUNTEERING
XYZ NGO
Volunteer English Teacher
Conducted weekly English language classes for underprivileged children, promoting language proficiency and communication skills.
HOBBIES
I enjoy painting, participating in community service projects, and exploring new marketing trends and strategies in my leisure time.