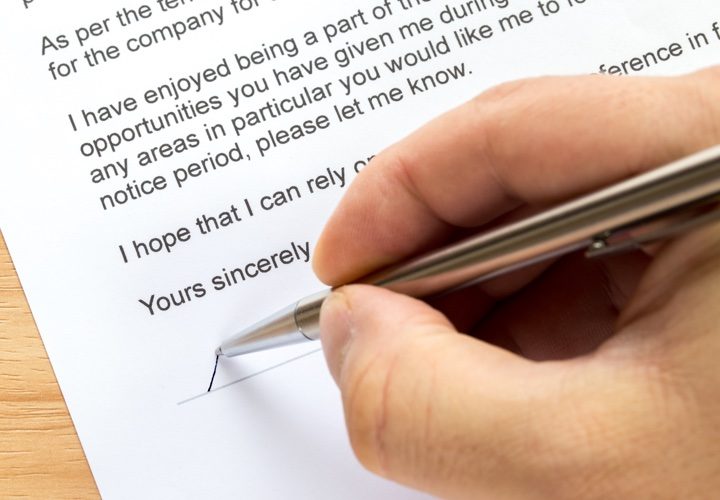 You've just finalized an employment contract with a new company. You're excited about the new opportunity, and you're ready to get started.
You just need to depart your current place of employment — gracefully.
Ideally, your first step should be to setup a meeting with your boss. Inform her/him that you've decided to quit the job and express gratitude for all the opportunities you received in your tenure there. Keep a positive tone and show your commitment for transitioning your responsibilities. 
Then, send out a formal letter of resignation to your boss. It should be professional, appropriate and respectable.  
Why Do You Need to Write a Resignation Letter?
Resignation letters are a formal way to provide notice that you're leaving. It makes it easy for the direct supervisor to share this information with their boss and the Human Resources (HR) department. Also, it removes any scope for confusion in the 'actual' date of resignation. 
Through written documentation, HR and your supervisors will know they need to begin the search to find your replacement. HR will also initiate all the exit related formalities based on this formal notice.
Here is a step-by-step guide on what content to include in your resignation letter.
Writing Your Resignation Letter: The Subject
In most workplaces, you'll be sending the resignation via an email. The subject line should be very clear and it should immediately draw the attention of the recipients. Remember, supervisors and HR people receive a lot of email and you don't want them to miss out on this one.
You can use any of the following subject lines:
Resignation – [Your Name]
Notice of Resignation – [Your Name]
Writing Your Resignation Letter: The First Paragraph
The first paragraph of your resignation letter may seem like the most challenging to write, but it is actually quite simple. Instead of looking for a creative way to begin the letter, you'll want the first paragraph to provide all the information your boss and the HR will need to know.
Following a simple greeting of "Dear [Boss's name]," you'll want to immediately let them know why you've written the letter. Within the first paragraph, you'll need to directly state that this is your resignation notice from your position. Be specific about the position you are resigning from.
Next, you can include the final date of employment. Be sure to include a specific date in your letter rather than saying you will be leaving in two weeks.
Dear [Boss's Name],
Please accept this note as my formal resignation from my position as [Job Title]. My last day of employment with Company Name will be [Date].
However, if you wish to leave earlier than your notice period, you can make a polite request for releasing you early.  
I understand that my notice period is X days, but I would request you to release me from employment [by DATE] OR [as early as possible]. I will do my best to ensure complete handover of my current responsibilities before I leave.
Writing Your Resignation Letter: The Thank-You
Don't feel like you need to get too deep into the reasons why you're looking to leave the company. You also don't need to include information about the job you've accepted or where you'll be going after leaving the company if you do not wish to.
However, you should take the time to thank your boss for the opportunity they have given you. If you had an extremely positive relationship with your boss and the company you've worked for, you may go into deeper detail in this section than others. If you are leaving the company on poor terms or you have negative feelings for your boss, still thank them, but stay generic.
Highlight a few of your favorite parts of the job and what you've enjoyed during your time in the position. State what skills you've learned while doing the job and how those skills will move with you as you grow your career.
Here is a generic thank you section you can customize to your liking:
I appreciate the opportunity you have given me and have learned many different skills on the job. Over the past few years, I've particularly enjoyed learning [Skill #1, Skill #2, Skill #3]. Thank you for helping me to develop these skills. They will stay with me for the rest of my career.
Writing Your Resignation Letter: The Closing
To end your resignation letter, let your boss know you're happy to help with the transition process until your final employment date comes. You should also try to mention a few key projects you're willing to close out before you go.
The closing is especially crucial if you're hoping to leave the company with strong relationships. Leaving the position without considering how it may make things difficult for your boss or co-workers is a good way to burn bridges. Instead, offer to work with them to determine what they need from you before you go.
You will also want to wish the company well. If you hope to maintain a professional relationship with your boss, mention how you hope to keep in touch when you go.
This example can get you started with writing a resignation letter closing:
Before my final work day, I will work with you and the team to complete my projects and train other team members. I would like to help make this transition as easy as possible for you and the [Company Name] team, so please let me know what I can do.
I hope the [Company Name] has many successes in the future, and I look forward to keeping in touch.
Thank you,
Your Name
What to Avoid in Your Resignation Letter
If you're leaving the company on poor terms, you may be tempted to tell your boss exactly what you think of the company and their leadership or your coworkers. While you may think this will help you feel better about leaving your job, it is best to avoid doing so for obvious reasons.
You never know who coworkers are connected to or who you may run into in the future.
Also, many companies reach out for background or reference check to the candidate's previous employer. If you leave an insult-filled resignation letter on your boss's desk complaining about the company or your colleagues, they certainly won't talk about you in glowing terms. 
If you don't have positive feelings about the job, don't get too specific in your resignation letter. Remain respectful, but keep the letter short and to the point. Simply writing a letter that states you're leaving and the date of your departure is enough.
Finally, keep in mind that your resignation letter may not be the time for jokes and humor, even if you have an extremely positive relationship with your boss. Your resignation letter should be formal because it will probably be shared with many different people in the company. From upper-level management to the HR department, your resignation may pass through many different hands. Don't write a letter you'd be embarrassed for the CEO to read.
Keep It Short And Simple
While resignation letters may seem intimidating, they are actually fairly simple to write. When creating your resignation letter, keep in mind the basics we've laid out. If you'd like to further discuss an issue, your departure or the projects you're working on, save them for an in-person conversation. A letter with only the basics will make it easy for you, your boss and the company you're leaving.
Use the provided examples to get started in drafting your resignation letter. They will serve as excellent starting places to create a unique letter explaining your departure — and your exit will exude grace and poise rather than be a flurry of chaos and hard feelings.
p.s. Resumonk helps you create a beautiful résumé & cover letter in minutes. Stand out from the crowd and multiply your chances of landing your dream job. Check it out now.