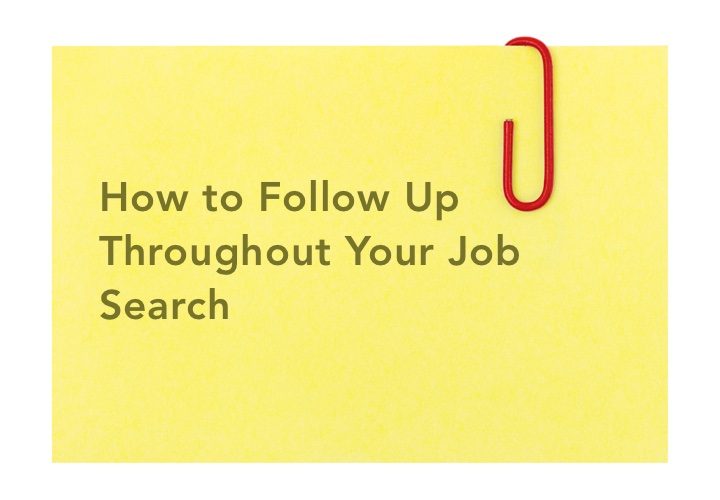 You've spent a lot of effort job hunting. You've sent out your resumes, and prepared for the interviews after that. And yet, all you get in return are crickets. Makes you want to pull your hair out, doesn't it?
Unfortunately, if job hunting is a full-time job, waiting is part of the duties and responsibilities. If you want to follow up on your job application without appearing rude, annoying or desperate, here's what you need to keep in mind.
How to Stay on Top of Your Job Search
First, a few general pointers for conducting an efficient and thorough follow-up on your job search.
Check the job ad for anything along the lines of "Don't call us, we'll call you" or "Please do not follow up." If employers tell you not to do something, don't do it. Nothing irks them more than applicants who think they're above following simple instructions.
Give them a reasonable amount of time to respond. This'll be explained in more detail later, but suffice to say that following up an hour after an interview isn't a good idea.
Assume the recruiter doesn't remember you. They process hundreds of applications a day, and even if you're a standout candidate, it's still likely they'll forget to give you feedback for one reason or another.
A few other tips:
Show enthusiasm. Write something like "I'm really excited to join ABC Company, which is why I'm following up on the status of my application." You don't have to flatter them. Just show you're taking the position seriously.
Add value. Give them a reason to smack their heads and say "Oh snap! I should've replied to this applicant sooner" after reading your follow-up email. For example, if you're bold enough, you can outline ideas that can help solve their existing problems once you're on board. But if you want to play it safe, just let them know you're available to help move the hiring process forward.
Write a good subject line. Recruiters are busy people, so they want to know what your email's all about as soon as it shows up in their inbox.
Be straight to the point yet polite. Tell them what you want within the first two paragraphs, but

take care not to sound too harsh

. If in doubt, read your email aloud and ask yourself how you'd feel as a recipient of that email.
Remember to say "thank you." Again, recruiters are busy people, and they're appreciative of anyone who realizes the amount of effort they have to put into their jobs.
Scenario 1: After You Apply
It's been weeks since you sent out your resume, and you haven't received a single phone call. You want to follow up, but you're worried your follow-up message will get lost in the void too. So how do you handle that?
First, research the company's average response time to applications. If it takes a month or so to reply, that's how long you should wait. If you're not sure, wait at least two weeks before you send your follow-up email.
If they don't respond to your first follow-up email, wait two more weeks before sending another one. And if you still don't get a reply, it's safe to assume they're not interested and you should concentrate your energies on another job.
If you applied online via a system such as Taleo, send your email to the person in HR who's most likely to process your application. Otherwise, look for the generic recruitment address like [email protected] or [email protected].
Use a subject line such as "Re: Application for (insert position here)."
Here's a sample follow-up email you could send:
Hello,
I applied for the position of Blogger at Chotto Corporation on 22nd May, 2017. I'm really excited to join the company, so I'm reaching out to you to follow up on my application.
I'd love to learn more details about the position if you're still searching for a candidate. I've been blogging for a decade, which has taught me how to adapt my style according to the requirements of each project. Here is the link to my portfolio: http://www.example.com
If you like, I can write a test post so you can get a feel for my writing and decide whether it's a fit for your company.
Thank you for your time, and I hope to hear from you soon. 
Regards,
(your name)
Scenario 2: After Your Initial Interview
You've seen all the signs an employer loves you. Every time you do so little as open your mouth, the interviewer can't help but crinkle their eyes. You're confident you've nailed the job and the company will be reaching for the phone to schedule a second/final interview with you.
And yet, you hear nothing. What gives? Take a deep breath and:
Stay calm. It's possible that "Replying to (Your Name)" got buried under your interviewer's to-do list.

Wait a day or two after the date they said they'd call you back. If they didn't specify a date during the interview, or you forgot to ask, give it a week or so.

Write a subject line such as "Thanks for the interview last week" and send the following:
Hello Mr. Calderon,
Thank you for interviewing me for the Blogger position. You had said I'd be notified about my status by 2nd June, so I wanted to drop a note and see if you needed anything further from me. I'd be happy to provide anything to help you move the hiring process forward.
Thank you again,
(your name)
Scenario 3: After Your Next/Final Interview
You've already come this far. And you've impressed your interviewers with your charm, wit and competence. You've even sent post-interview thank you notes. Still, the waiting time's giving you the heebie-jeebies.
Luckily, these tips can help you ease your anxieties:
Again, stay calm. Any desperation you feel might bleed into your follow-up email if you're not careful. Take a deep breath before you do anything.

Wait at least two days after the interviewer's "Call You Back" date. If you're not sure about the date, give it a week.

Write a subject line such as, "Pleasure to Learn More About (Company Name)"
Hello Ms. Acosta,
Hope you are well. I enjoyed learning more about the company, as well as the Blogger role. I'm really excited about the possibility of joining Chotto and helping you achieve the goals we talked about during the (nth) interview.
I'm happy to provide any more information you may need, as you make your decision. Thanks so much for your time, and I hope to hear from you soon.
Regards,
(your name)
Let's face it: Waiting is the most excruciating part of job hunting. There's a strong temptation to wallow in all the reasons why they're not calling you back yet.
But if you want your waiting time to be productive, your application to get results and your potential employer to know you're dead-serious about landing a position in their company, following up is your best option.
In the meantime, happy job hunting, and give us a nudge in the comments if you have any thoughts about this post.
p.s. Resumonk helps you create a beautiful résumé & cover letter in minutes. Stand out from the crowd and multiply your chances of landing your dream job. Check it out now.