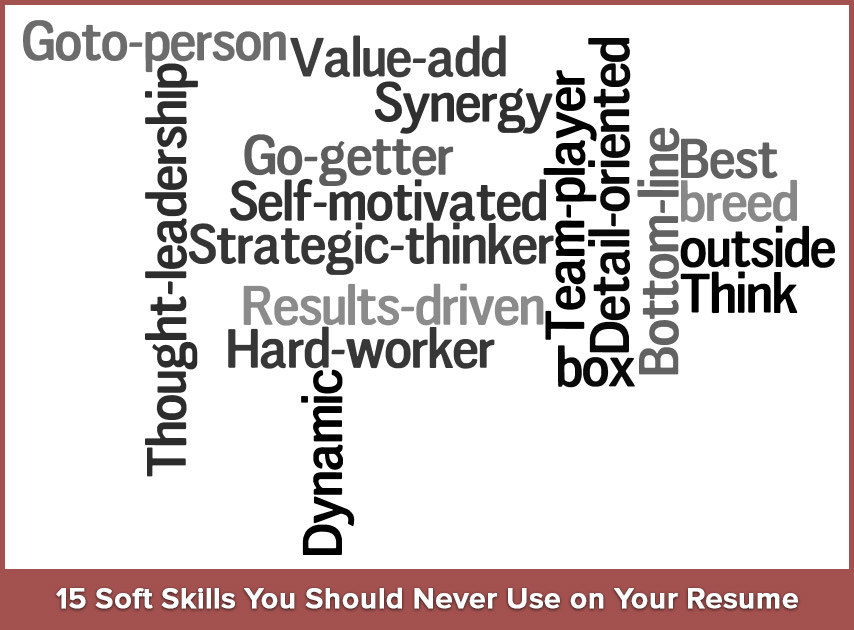 All this talk about how critical soft skills are for inclusion on your resume and, ultimately, your job search success. Employers even list some of these "soft skills" in their job ads. It's this unyielding catch-22. The employers want to see that you're a "team player" and "hard worker", but yet they don't want to see that information on your resume!
How are you supposed to convey that you can meet the requirements of the position when some words aren't supposed to be included in your resume? And how are you supposed to even know what those offending words are? Here's a list of the top 15 words HR does NOT want to see on your resume:
Best of breed
Go-getter
Think outside of the box
Synergy
Go-to person
Thought leadership
Value add
Team player
Results-driven
Bottom-line
Hard worker
Strategic thinker
Self-motivated
Dynamic
Detail-oriented
The problem with the list is it contains mostly generic soft skills. So what can a job seeker do? You can still give the employer the soft skills they're looking for, but wait until the interview to show them you're a great culture match. Focus your resume on showing them you're a great experience/skills match! Switch it up and focus on keywords, quantifiable achievements, and unique successes.
Also, here's a list of the BEST alternative words to use on your resume as preferred by HR themselves! Check out this list of the 15 best words to use on your resume on GreatResumesFast.