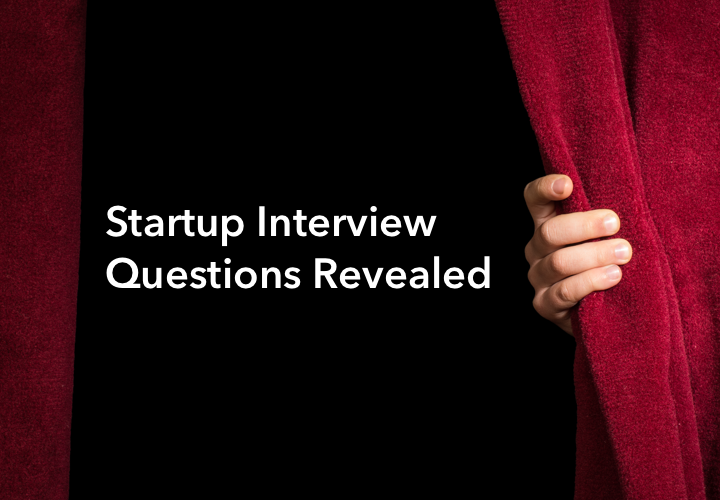 Curious about what successful entrepreneurs ask when they interview job seekers? Wondering what it takes to get hired by a high-profile startup? 
We interviewed (ha!) the Founders of some of the fastest growing companies and asked them to reveal the questions they ask while recruiting new team members for their venture.
If you are a job seeker or a hiring manager, either way, you'll find great nuggets of wisdom in this post. And some of these startup job interview questions will surely surprise you!
Here we go:
'Please walk me through the journey of how you got here today to be applying for this job?'
Gabriel Weinberg is the Founder & CEO of DuckDuckGo, the search engine that doesn't track you.
He says this is the highest-leverage question he has come across in terms of learning the most about someone in the shortest amount of time. 
"It requires them to essentially tell a brief career story, which forces them to highlight what they think is important, how they see themselves, and how well they communicate.
Then it allows you to easily use their answer as jumping off points to ask follow-up questions like why they made certain decisions, which illuminates how they think."
'Take 5 minutes and tell me your story?'
Gurjeet Singh is the Co-Founder & CEO of Ayasdi – an artificial intelligence software company.
"By the time I am interviewing someone, they have already been tested for skills. I am not looking to do that again. This question allows me to test:
– how someone describes their journey?
– are they self-motivated or did they excel at what their boss told them to do?
– what are they proud of having accomplished?
– what does success mean for them? have they seen it?
– the best candidates often sprinkle their questions for me during their answer and the calibre of their questions is the biggest signal for me." 
'Let's say I give you a few million dollars. You don't have to work, you don't have to really do anything. What would you spend your time doing?'
Galen Ward is the Co-Founder & CEO of Estately that makes it easier for people to find & buy homes online.
He is also a mentor at 500 Startups – a leading early stage venture fund & startup accelerator.
He loves asking this question because it forces the candidate to talk about their passion and something that is really meaningful for them – whether it's a sport or something else.
"It tells you about their core interests outside of trading time for money and that tells you something about their motivation and what drives them. People are surprisingly honest about it – no one has told me they'd save the world."
'If you won the lottery and you had more money than you ever need — and you choose to work — what would you do?'
Rahul Vohra co-founded Rapportive that was acquired by LinkedIn. He is now the Founder & CEO of Superhuman – a fast & intelligent email client. 
"The wording is important here; it keeps the candidate thinking about jobs, as opposed to other activities.
Given that, if the candidate talks about activities unrelated to the role, that's a big warning sign: their dreams are misaligned with their reality."
'What is the biggest challenge you've ever faced? How did you get over it?'
 This is another one of Rahul's favorite interview questions.
"If the candidate talks about a work challenge, you have to wonder whether they have authenticity or perspective.
This question really only works in a 1-to-1 situation, where you've had the chance to establish rapport. If the candidate shares a personal story, be sure to thank them for it."
'What's the biggest misconception people have about you? Why do they have that? What's the reality?'
Another great question that is put by Rahul to his interviewees. He says 9 times out of the 10 the misconception is actually true, and the candidate has given you examples of how this is the case.
'What was the best team you ever been on — be it in a professional environment or not — and why it was such a good team?'
Alex Cavoulacos is the Co-Founder & COO of The Muse – an online portal that helps people in searching jobs, exploring top companies and offers expert career advice.
She says that seeing what candidates value in a team tells her a lot about their style and priorities, and there is no right answer, which gives them room to show personality.
'What is the one thing you want to learn during your time here?'
David Cancel is the Co-Founder & CEO of Drift – a messaging app that makes it easy for businesses to talk to their website visitors.
He wants to recruit high performance individuals for his company and as per him the most effective approach for doing that is to align their personal goals with business goals.
"Also, if we do that then we create 10x potential for that person."
'Do you believe in horoscopes?'
Paras Chopra is the Founder & CEO of Wingify, the company behind Visual Website Optimizer – one of the leading A/B & Split Testing Software.
He says the answer tells how much control the person feels on his/her life and actions.
"We are looking for individuals who have a strong internal locus of control and believe that the end result is a cause of their own actions.
We believe such people display a higher sense of responsibility and judiciousness when taking important business decisions, compared to those who believe overtly in external factors like luck or competition affecting their performance."
'This is a real problem we're facing – ________ . Let's think it through together.'
Amanda Steinberg is the Founder & CEO of DailyWorth – a leading financial & career advice portal for women. She is also the Co-Founder & CEO of WorthFM – a digital investment platform slated to launch this year.
She says this question tells her a lot about how the candidate thinks as well as how they might work together.
'What was for breakfast? Did you exercise this morning?'
Sairee Chahal is the Founder & CEO of SHEROES – a career portal for women in India.
She asks this question to gauge the candidate's sense of self, discipline and perspective on life. She also says that in her opinion fitness and integrity are closely linked together.
'Do you really want to do something big and revolutionary? Do you understand what would be required of you to join us in this mission?'
David Sifry has started and built 6 companies both venture-backed and bootstrapped, and is the founder of Technorati – the first blog search engine.
Dave says that oftentimes, especially as the company grew, his job was primarily to convince the prospective employee to join, so he was often telling them why they existed, what they were trying to achieve, and what to expect if the candidate chose to work at his company.
"I often asked them if they really wanted to do something big and revolutionary, and if they understood what would be required of them to join us in that mission – that this wasn't for everyone, and that there were plenty of great jobs out there for people with their formidable talents, but that we were looking for a special breed of person – someone who wanted to step up and take risks, someone who had no problem going full-speed into things, even if that meant they left a dent in the wall.
What I promised them is that we would give them the authority, the resources, and the teammates to go and break through those walls.
What I asked them for was if they were willing to take on the commensurate responsibility that comes with that authority.
And I wanted to make sure they really thought about it and were committed before they accepted the offer."
'What does your work setup look like?'
Alex Turnbull is the Founder and CEO of Groove – customer service software company. Their entire team works remotely and hence he always asks this particular question from the candidate.
"As a remote team, we need to hire not just great performers, but great remote performers; people who can excel at self‑starting and self‑managing.
A big part of that is being thoughtful about your workspace. If someone hasn't put much thought into their setup and works from their couch 100% of the time, or worse, 'doesn't know yet,' this signals that they might not be ready for a remote position yet.
There are a lot of right answers and very few wrong ones—we have folks working in everything from coffee shops to home offices to coworking spaces—but it's important to me that some thought was put into this, either from previous remote experience or in preparation for future distributed work."
Sidenote: Team Resumonk works remotely as well. Cheers to all the remote teams out there!
'What are the top three books you've read this year?'
Well, the interview is also a chance for the Founder to learn from the candidate.
Jessica Mah is the Co-Founder & CEO of inDinero accounting software and loves asking this question for herself. "I ask that so I can add them to my reading list and figure out what to prioritize :)"
Do you have any favorite question that you ask all the people you interview? Let us know in the comments below.
Resumonk helps you create a beautiful résumé & cover letter in minutes. Stand out from the crowd and multiply your chances of landing your dream job. Check it out now!